In August 2013  I went to Conwy in Wales since I knew my Charlotte had spent her first night there after her marriage in June 1854. I looked for it and stopped outside The Castle Hotel for photos and videos, knowing it was the inn where Charlotte and Arthur Bell Nicholls had taken a rest before leaving for Bangor and Ireland some days later for their honeymoon. A few moments and I suddenly had the idea to enter the now elegant and luxurious hotel just  to ask someone to show me Charlotte's wedding room. I thought it as a joke but who knew, I might be lucky! And so it was with my utmost surprise that after some minutes a very kind Welsh person from the reception came to my assistance and really took me in the room that had seen Charlotte Brontë's presence more than a century and a half ago.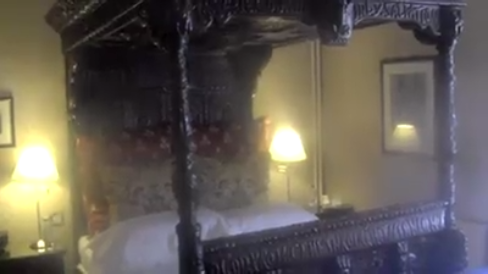 But my emotion reached the maximum level when nice, bald Brian showed me the double bed, a dark, carved, seventeenth century tester bed, telling me it really was the bed where Charlotte and her husband had slept that night. I then took a lot of photos and Brian smiled at my being so taken by the bed. When I could breathe I asked him if there are many Brontë fans coming there asking to visit that room but he told me that no, there aren't any and also the room is the least booked in their hotel since the ancient fearful bed bears the following mysterious inscription on it: 'God protect me through this night'. When I added that Charlotte's husband was a curate, Brian burst into a loud laugh that meant, as he explained afterwards, she was well protected!
Maddalena De Leo
Did you know that in 2015 the BBC re-enacted Charlotte Brontë's wedding at St Michael and All Angels? The Sisters' Room wasn't there, but our special friend and renowned Brontë biographer Nick Holland sent us some pictures and told us everything about that very special day! If you've missed the article, just click here: From the Family Album: Charlotte and Arthur's Wedding.