I think that the 1978 BBC dramatization Wuthering Heights in two DVD discs is really to be considered the best among the various screen adaptations of Emily Brontë's novel ever realized.
Of course BBC dramatizations are always of the finest level (Pride &Prejudice, North and South etc.) but the public will be amazed in finding this almost unheard of adaptation so adherent to the beloved novel and above all, so careful and attentive to those particulars often ignored by other directors, with only few differences from the original text. No wonder that BBC never attempted to adapt again Wuthering Heights as happened to Jane Eyre 2006.
Thanks to its running time of 255 minutes and its five episodes, the mini-series Wuthering Heights (directed by Peter Hammond and starring Ken Hutchinson and Kay Adshead, originally transmitted in U.K. from September to October 1978) boasts many strong points as the particularly vivid atmosphere of the moors conveyed from the first to the very last scene and the authentic use of Emily's own language and phrases. Singularly, Cathy and Heathcliff's affection for each other is rendered through the intensity of their looks and not by words while their recurrent close-up underlines the force of passion in a most effective way.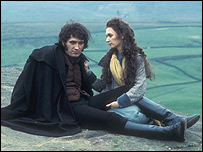 Also the minor characters are well-drawn, each in his or her own peculiarity, although a 'milder' Joseph and a pleasantly strong Isabella with a will of her own are to be found, differently from any other known adaptation of the novel. For once there is no narrator of the story and Nelly Dean appears only in her role of a servant not always or entirely convinced that her masters' actions are right. Notably the burning fire in the enormous fireplace at the Heights is put into limelight just when the main characters' souls are torn by agony and inner cold.
On the other hand, there are obviously some few weak points, mainly the missing snow substituted by a frequently driving rain on the moors always announcing fatal events or, in episode two, a too long childhood against a too short teen period for Cathy and Heathcliff. This last character appears as an old man even when he is still young, almost as a hunchback with a displeasing voice, but Ken Hutchinson's interpretation of him in the last stages of the character's life is superlative. The image of dying Heathcliff is not easily to forget. A regrettably missing moment in so attentive an adaptation is the beautiful passage in the book in which while lying in the moor the second Cathy and feeble young Linton speak of what they like more in life.
What else is to be said? All Brontë lovers can only highly welcome this blessed offer by BBC!
Maddalena De Leo
Did you read last month's article by professor De Leo about another unforgettable film version of Wuthering Heights? Click here and let us know which one's your favourite: Comment to Wuthering Heights (1939 Film)- Article by Maddalena De Leo