Thanks to the kind collaboration with Garzanti we've had the chance to read a very special novel recently. Why special? Because this story, set in old and lonely classrooms and towers at Oxford, tells about a mysterious Brontë inheritance… we just had to read it!
The Madwoman Upstairs (I segreti del College), a novel by Catherine Lowell
The Madwoman Upstairs (I segreti del College) is Catherine Lowell's debut novel and it's published in Italy by Garzanti. It's an exciting story of over 300 pages and it brings us in Samantha Whipple's life, secrets and memories. She is a young woman enrolled at Oxford University, and apparently she is the only remaining descendant of the Brontë family. When her father dies he leaves her a mysterious inheritance: a bookmark. As far as Samantha knows that is only the beginning, since when she was a child her father used to organize very special activities for her- treasure hunts, riddles to solve, tests to pass- in order to teach her to be smart and always think with her own head. This bookmark then is just clue number one… but what's the hidden treasure to look for this time?
Samantha's life is going to change forever. She'll meet new people- a handsome and brooding Oxford professor, a grim curator of the Brontë Parsonage Museum, her father's unexpected lover; she'll get closer and closer to her ancestors in order to know them better and to understand what could possibly be the secret inheritance she is looking for. After all, besides their novels and some works of art, the Brontës didn't leave anything else to the world. Or did they?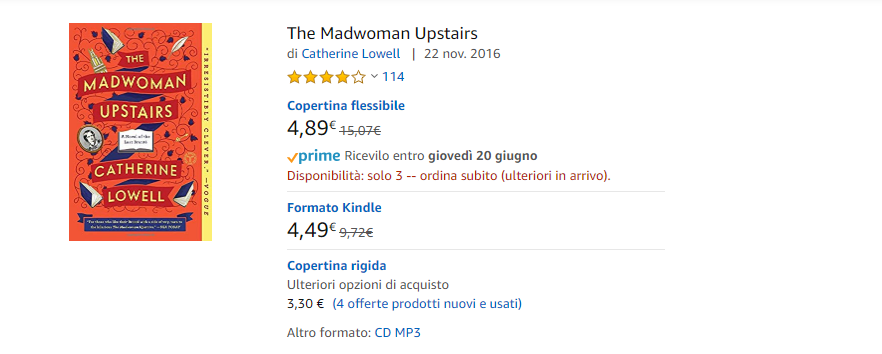 The Madwoman Upstairs (I segreti del College) and the Brontë sisters
This novel was born from the great passion of the writer for the works of the Brontë sisters. It's a book which brings us for a little while in a thick fictional world full of "what if" questions. Even if this is not reality it was fun following the story between assumptions, mysteries, secrets and different interpretations.
We enjoyed reading it, even if to be honest we couldn't stand the main character (sorry, Lowell), probably because we felt protective towards our beloved sisters- Samantha hates them at the beginning of the story. We've really appreciated the many direct and indirect quotes from the Brontë novels; the connections and cross references to their works which are everywhere in the text.
This novel could be a perfect match for summer readings: ready for Brontë mystery?
We are very glad Garzanti's accepted our collaboration request and sent us the book. Have you read it already? Let us know in the comments below, we are very curious!
Serena
If you are looking for more Brontë readings for summertime don't miss E sognai di Cime Tempestose and Emily Brontë 33 poesie