Lynn Setterington can be defined as a "texile artist". Many of her artworks are shown in the most important British galleries, like the Victorian  & Albert Museum. Born in Yorkshire, she started to practice Kantha embroidery in the Nineties, a peculiar kind of stitching used in Bengal to recover unused saris.
Setterington had the chance to analyse the changes in British history and society thanks to her study of Signature cloths, quilts embroidered with signatures that were used in many houses hundreds of years ago. These brightly coloured quilts, embellished with embroidered sentences and finely elaborate decorations, hide the exceptional story of joint efforts made by countless expert hands of men and women.
Signatures are a characteristic feature of Lynn Setterington's work- she took part in a project called Sew Near – Sew Far organized in 2017 by the Brontë Parsonage Museum in Haworth. It was an amazing land art project promoted by the art agency Arts&Heritage, in collaboration with many other Yorkshire museums, and it was based on signatures. Lynn's artwork was in fact a symbolical commemoration of the Brontë sisters' signatures in Branwell's bicentenary year.
About a hundred people from Haworth were involved in the project, and they were asked by the artist to embroider patiently, on several pieces of cloth, their signatures with coloured threads. This early stage of the project was particularly treasured by Setterington who enjoyed the close collaboration with the volunteers, and eventually the small pieces of signed cloth were sewed together in order to create some very long white stripes.
After that, the artist and the participants went to the green Brontë Way hill, on the cold moors swept by the autumn wind, and brought it to life with an enchanting artwork. The cloth stripes were put together to shape the handwritten pseudonyms used by the Brontë sisters in the initial stages of their career as writers, when the collection Poems by Currer, Ellis and Acton Bell was published.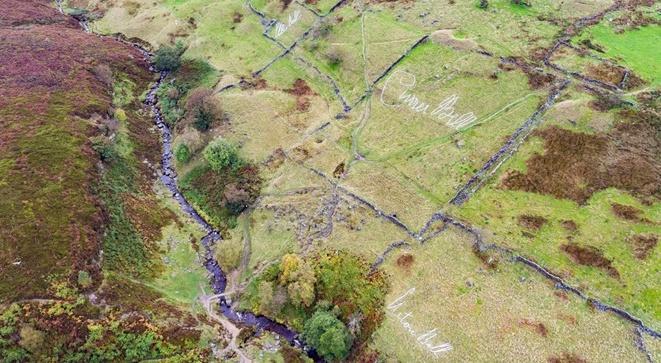 The meaning of this project organized by the Parsonage and Lynn Setterington was clear- the artist wanted to place these enormous cloth names, made with stitched signatures of the proud inhabitants of Haworth, where the Brontës used to go for long walks in sunny, rainy, as well as stormy days. Residents were "proud" to feel like small parts of a very big artwork, and they became white fragments of the precious and ancient handwritten Brontë pseudonyms.
This is an installation that combines various elements, especially the close and the far – the signatures of the volunteers can only be seen when you're close, but Currer, Ellis and Acton Bell's signatures, made with pieces of cloth sewed together, can only be spotted from a further, higher, perspective. However, this artwork is also a combination of past and present –  playing with the connection between today's signatures and yesterday's signatures, time seems to be fluttering between the Nineteenth century and present day, thanks to a refined and extremely delicate suggestion.
These three signatures appeared on the Brontë hill, among the dark gritstone walls, like white embroideries on a green sea, delicate poems that remind us of those who made this land famous. Between the 30th of September and the 14th of October, visitors had the chance to walk through these long pieces of cloth sewed together, and it must have felt like walking along a Milky Way made of names and coloured threads.
Elena Lago
Don't miss our articles on Brontë contemporary art! Click here! Serena Partridge: a delicate embroidery for Charlotte Brontë- An Article by Elena Lago