Christmas is coming and this year we'd love to suggest some very special  presents. We're glad to announce a collaboration with Leticia Lentini from The Crow Emporium. She runs an online shop where you can find lovely literary creations made even more unique by a series of collaborations with many British artists. We met Leticia in Haworth a few years ago and we had the chance to appreciate some of her works dedicated to the Brontë sisters. Her creations are always rich in details and inspired by litetature, and we're very happy to share with you a promotional code that will offer our readers a 10% discount until December 31st: sistersroom.
We got a special delivery from her a couple of days ago- we found in our box four special Brontë items that would make some perfect Christmas gifts: the No Coward Soul Is Mine pin, the A Brontë Christmas Card, the Brontë Juvenilia Playing Cards and the Brontë bookmarks.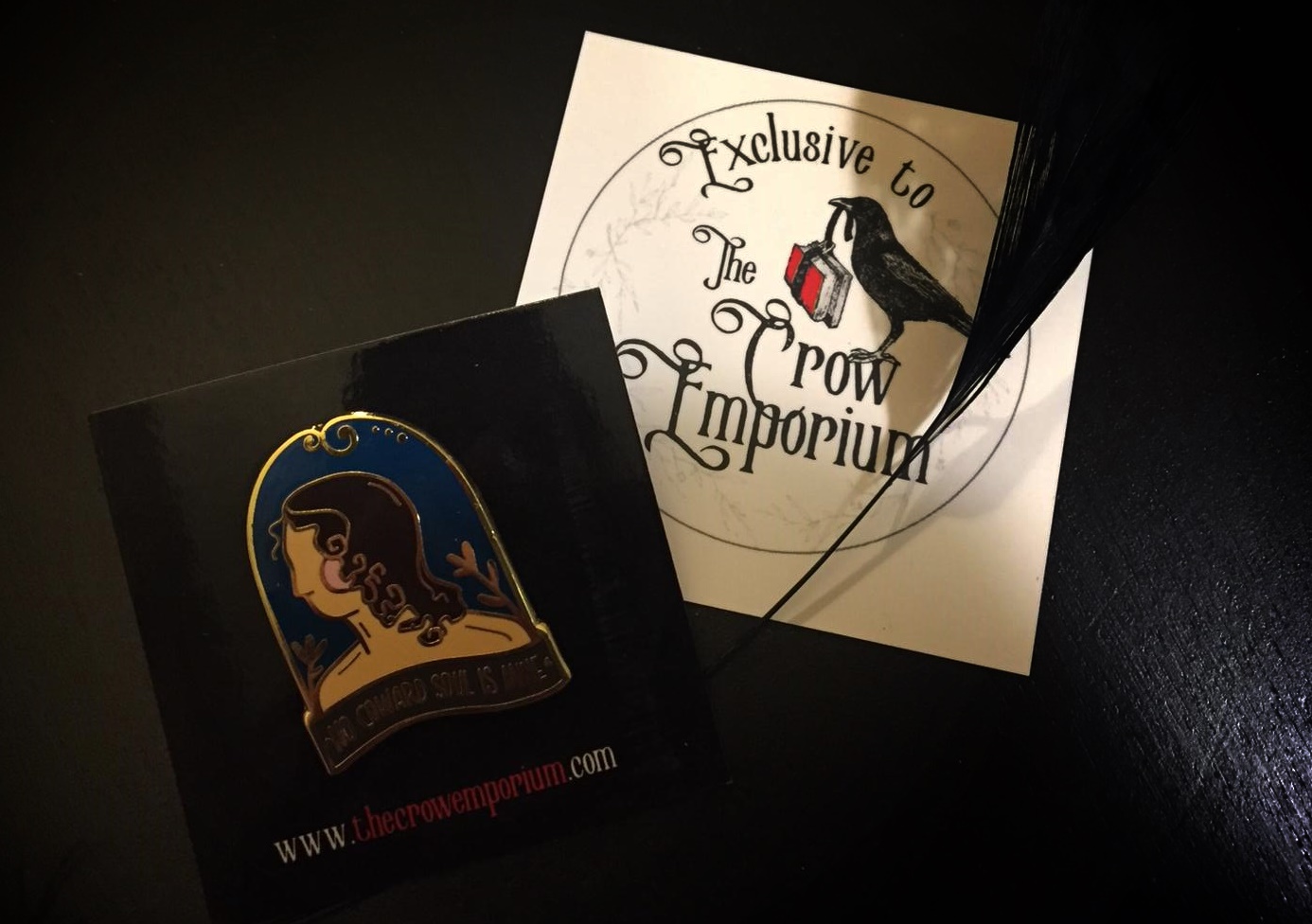 The thing we love the most about the No Coward Soul Is Mine pin, is the golden decoration that brightens up our winter clothes, reflecting the light and the colours of our favourite season. Showing off some of the lines written by Emily Brontë in one of her most famous poems is a delight, a constant reminder of the power of words, especially in such a difficult time.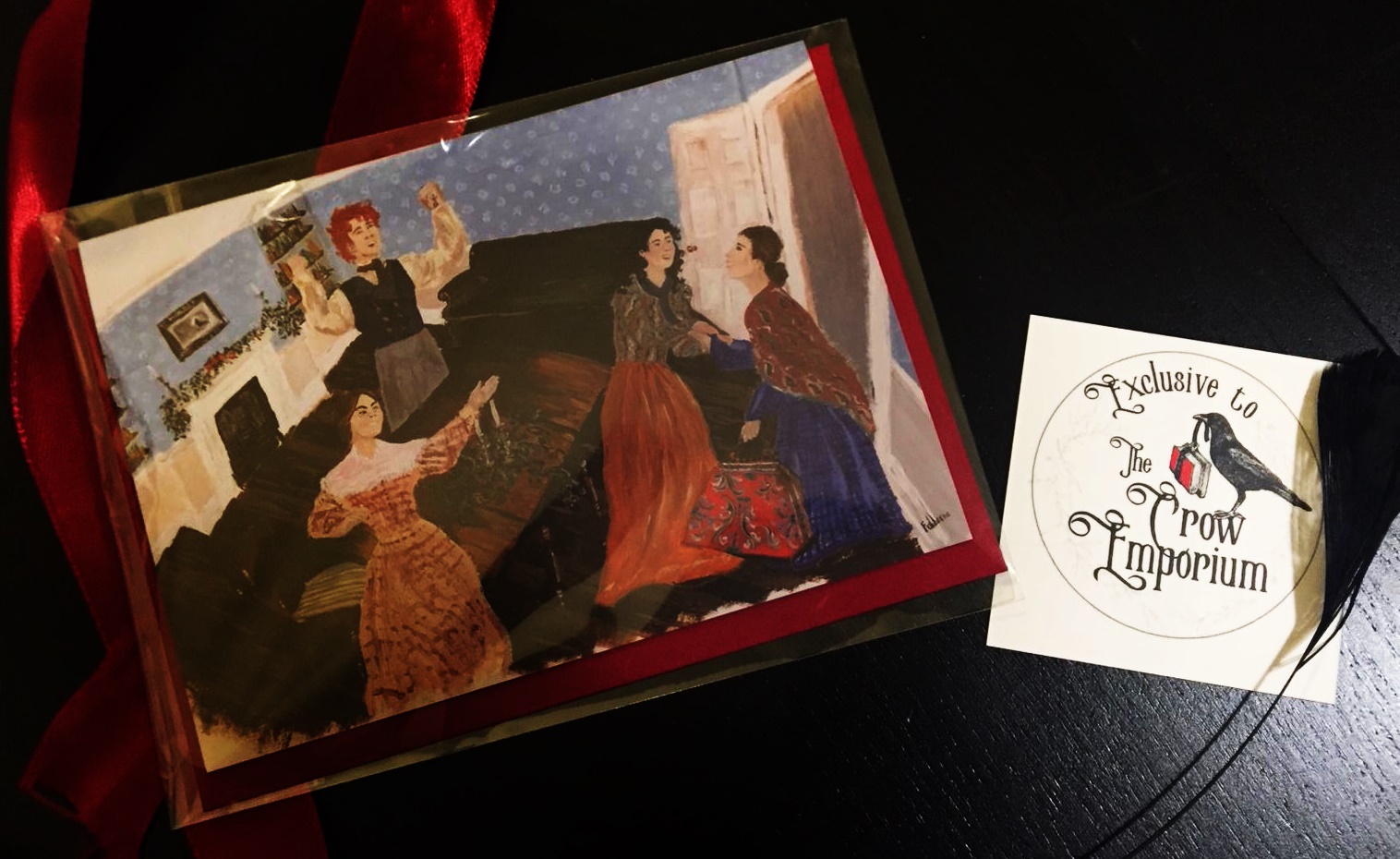 The "A Brontë Christmas" card, is exclusive to The Crow Emporium and is illustrated by English artist Christina Rauh Fishburne. The drawing was inspired by a touching poem written by Anne Brontë, "The Consolation". It was composed when she was working as a governess at Thorp Green Hall. Anne was living far from home but dreaming of Haworth, and looking forward to feeling the warmth of her home again:
"Warm hands are there, that, clasped in mine,
The warmer heart will not belie;
While mirth, and truth, and friendship shine
In smiling lip and earnest eye.
The ice that gathers round my heart
May there be thawed; and sweetly, then,
The joys of youth, that now depart,
Will come to cheer my soul again.
Though far I roam, that thought shall be
My hope, my comfort, everywhere;
While such a home remains to me,
My heart shall never know despair!"
The illustration depicts the dining room at the Brontë Parsonage. The dining table, the chairs, the sofa, everything is painted in details and it brings you to the heart of the Parsonage where the emotion of being home again for Christmas can be clearly read in Anne's face, as she steps into the room where here sibilings had been waiting for her. This is the most hearwarming Christmas Card!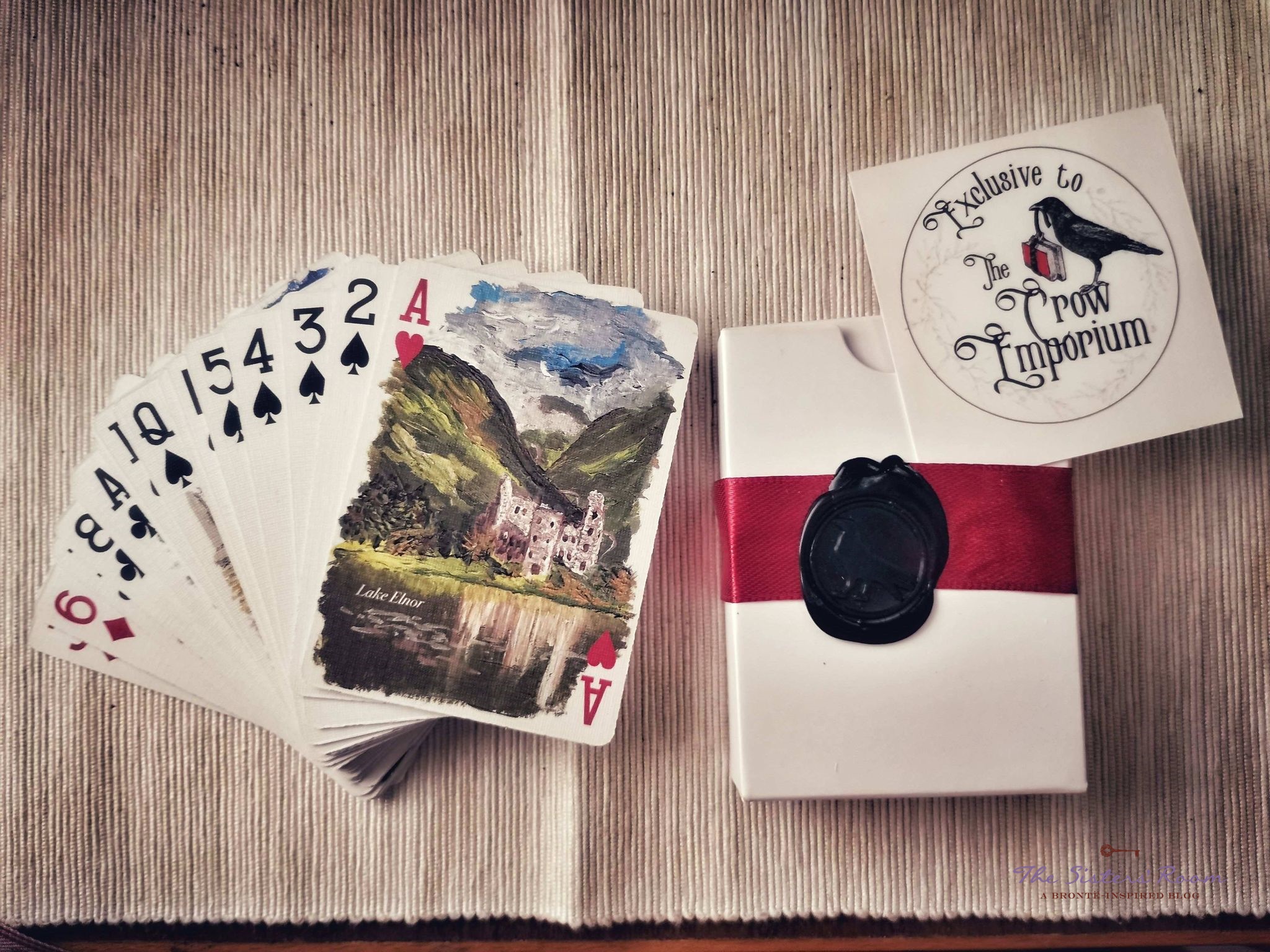 Another item we loved so much were the Limited Edition Brontë Juvenilia Playing Cards, always hand painted by artist Christina Rauh Fishburne. Not only they are inspired by the imaginary worlds of Charlotte, Branwell, Emily and Anne, but they are also a unique gift. This is in fact a limited edition of 50, so there are only 50 decks of such cards in the world.
Can you imagine playing cards while appreciating characters and landscapes from Glass Town, Angria and Gondal?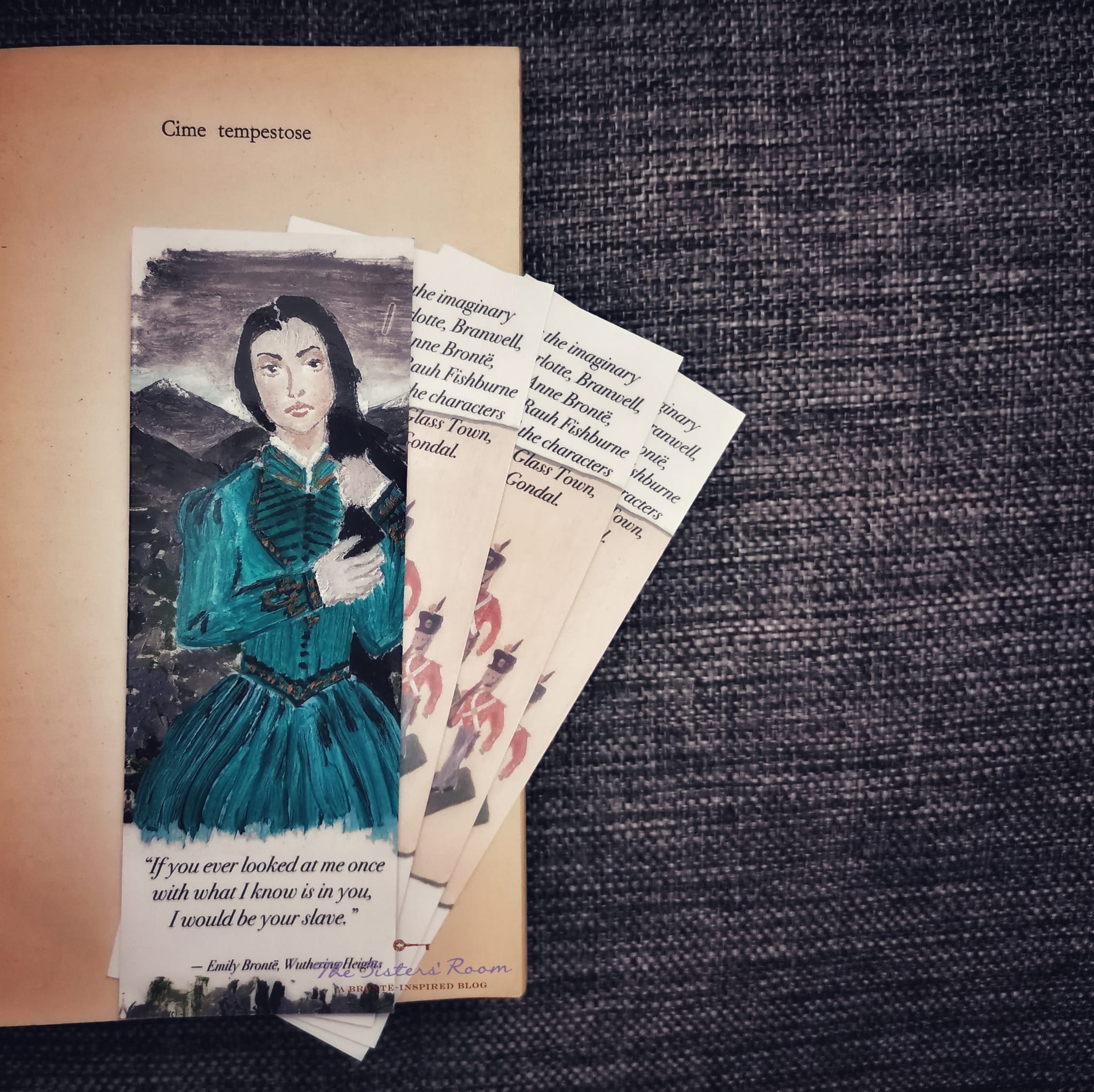 There were also four amazing bookmarks, a perfect match for our Brontë readings. Painted by the artist Christina Rauh Fishburne, the characters and lands from Glass Town, Angria and Gondal, as well as some characters from novels such as Wuthering Heights, stand out in vivid colours. Besides the stunning images, on the bookmarks there are also quotes from the Brontë sisters' works. Absolutely gorgeous- hiding them into the pages of a book is almost a shame.
Another special item we found in Leticia's box was the Literary Advent Calendar. Behind the windows you'll find a quote from a famous writer every day, Brontës included. On The Crow Emporium website in fact, there are not only Brontë items, but also other literary creations that would make your Christmas a very special one! Ours will surely be great thanks to these amazing gifts!
Serena and Selene