This last summer, our strong passion for the Brontё family led us far away from the Parsonage and from England- in fact, we followed Charlotte and Emily's footsteps to Brussels, Belgium. We examined everything in depth, set a plan, got a map and a good kway, and in a cold and wet afternoon of August, we started our new adventure in Brussels, a city that deeply influenced Charlotte's novels, and a place from which Emily left, never to return. As a matter of fact, in 1842, Charlotte and Emily Brontё left Haworth and moved to Belgium in order to study foreign languages and to receive a good education that would give great value to the project of opening their own school.
In September 1841, Charlotte wrote to Aunt Elizabeth and asked for a financial help– she told her aunt about their plan, and explained how the chance of studying in Brussels would be a very important step for the project to be successful. "Papa will perhaps think it a wild and ambitious scheme; but who ever rose in the world without ambition?". Reverend Brontё was a strict and severe man, but he was also very clever, and rather modern too, if we consider his point of view about the education of his children. So, thanks to the financial help of Aunt Branwell, on February 8th 1842, the two sisters moved to Belgium, accompanied by their father and Mary Taylor, a friend of Charlotte's already living and studying in Brussels. The Brontё family already had some acquaitances in the city, like the Jenkins, for example, who were very significant for Charlotte and Emily's experience in Belgium. In fact it was Reverend Jenkins' wife who suggested to the Brontё girls to establish at Madame Héger's Pensionnat de demoiselle in Rue d'Isabelle.
Unfortunately today there is very little left of the old Brussels of the 19th century, and the very Rue d'Isabelle is not there anymore. Anyway, our walk on the sisters' footsteps began exactly from where once the Pensionnat was. We had plenty of maps and old images of the Hégers' school, but yet it was not easy to try to picture it there, among those old buildings built only later in time. On the contrary, it was not so difficult trying to imagine how these two girls of 25 and 23 could have felt on those days- two young women who had such a small experience of the world, living far away from home and in such a different place from their protestant England. In Villette, Charlotte writes: "On I went, hurrying fast through a magnificent street and square, with the grandest houses round, and amidst them the huge outline of more than one overbearing pile; which might be palace or church–I could not tell." (Villette, Wordswort Classics Edition, p. 68). Rue Royal, the Place des Palais, the Place Royal were already there on those days, and those magnificent buildings must have impressed her a lot.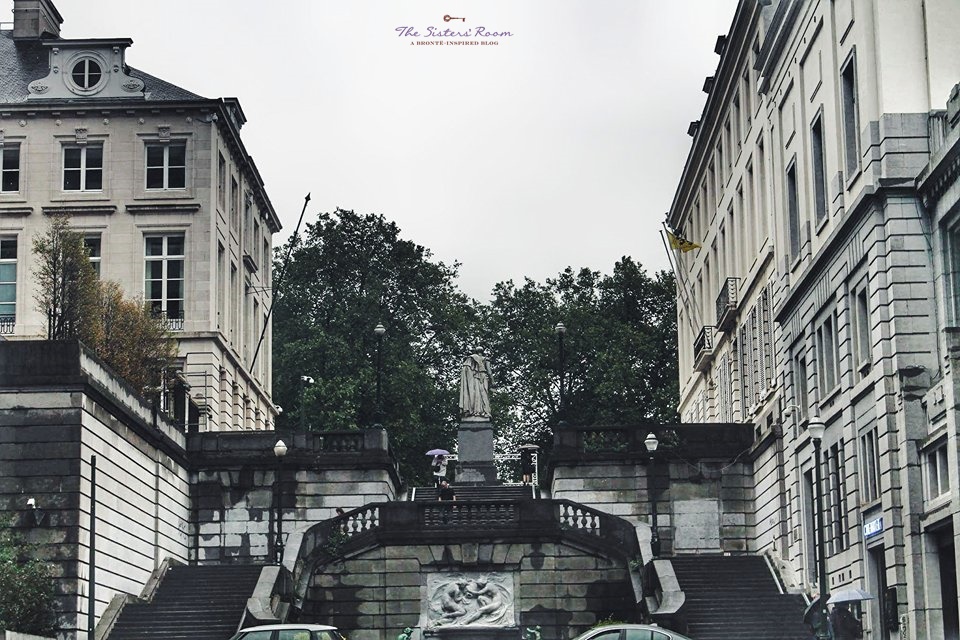 Among all the places where the sisters might have been, it was particularly moving for us to find the places we had already seen among the pages of Villette. For example the stairs which led to the Pensionnat, even though today they are completely different from back then. "I came at last to an old and worn flight, and, taken it for granted that this must be the one indicated, I descended them." (Villette, Wordswort Classics Edition, p. 69).
What happened when she got to the end of the stairs and knocked at the door of the school? Charlotte tells us through the pages of her novel: "A bonne in a smart cap stood before me. […] The next moment I sat in a cold, glittering salon, with porcelain stove unlit, and gilded ornaments and polished floor.[…] A quarter of an hour passed. How fast beat every pulse in my frame! How I turned cold and hot by turns! I sat with my eyes fixed on the door–a great white folding-door, with gilt mouldings: I watched to see a leaf move and open. All had been quiet […] "You ayre Engliss?" said a voice at my elbow. I almost bounded, so unexpected was the sound; so certain had I been of solitude. […] No ghost stood beside m
e, nor anything of spectral aspect; merely a motherly, dumpy little woman, in a large shawl, a wrapping-gown, and a clean, trim nightcap. " (Villette, Wordswort Classics Edition, pp. 69,70). In Villette that woman was Madame Beck, but in real life she was Claire Zoë Héger, wife of Constantin Georges Romain Héger, the teacher Charlotte fell in love with during her Belgian stay.
At first glance there is no sign of the Brontёs in this place, but if you go down the stairs from the left side, walk down the street till the crossroad and look up, you'll see the famous commemorative plaque dedicated to them. As a matter of fact, the Brontё Society had it hung there on the wall of the "Bozar" (Palais des Beaux-Arts) in 1979.
On that plaque you can read:
"Near this site formerly stood the pensionnat heger where the writers charlotte and emily bronte studied in 1842-43. This commemorative plaque was placed here by the Brontё Society with the kind permission of the Palais Des Beaux-Arts/ Paleis Voor Schone Kunsten 28-9-79"
 Selene and Serena
If you want to know more about Charlotte's experience in Brussels, read this article about her confession in Santa Gudula: View From The Window: In The Footsteps Of Charlotte In Brussels