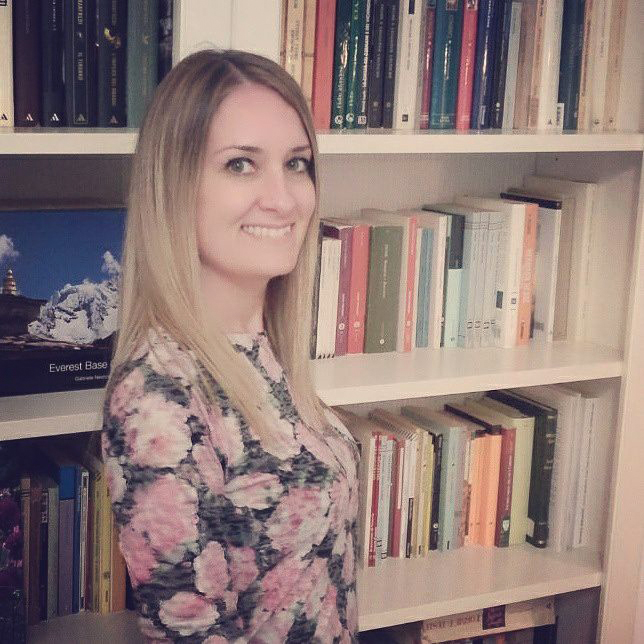 The Sisters' Room has the pleasure to collaborate with flower-ed, an indipendent publisher active in Rome since 2012. This online publisher deals with texts of contemporary authors as well as texts from the past, and it was created by two sisters- Michela and Giorgia Alessandroni. Today, it's a pleasure for us to introduce to you one of them, Michela, who answered lively and with great enthusiasm to our questions. Enjoy the interview!
Hi Michela, tell us something about you…
Hi Serena and Selene, thanks for meeting me. I spend my life surrounded by books, because of my job but also because of personal interest. I read and publish words written by others, but I also love writing – and for me, this is not a secondary activity. Another great passion of mine is going trekking in the mountains, which is not so different from writing: it gives you in fact the chance to know yourself, not only mentally but also physically. It's such a huge passion for me that once I walked for weeks the Hymalayas until I reached the Everest base camp.
How did you have the idea of starting a publishing house?
I've always wanted to work in writing. When I was at university I started to be interested in the field of interactions between humanities and new technologies. This is how between new studies, courses, and jobs for different publishers, many years have passed in which I had the chance to develop the experience and the competencies necessary to give life to my own idea: a lively and beautiful activity through which I could spread the culture and good reading using new technologies.
Tell us something more about Windy Moors, your wonderful series of books….
Windy moors is a series of books but it is also a place, a feeling, a disposition… Those who have breathed the vastness of the English moors can see what I mean very well. With our literary project, we want to virtually recreate those places and pass to the readers a deeper knowledge on a specific kind of culture. In particular, we deal with essays on English and American literature from the past, with a special focus on the Brontë sisters.
Among all Victorian authors, you chose to focus especially on the Brontë sisters. What's the thing that you like the most about them and what's your favourite Brontë novel?
When I was a child I went on a trip to England, and on that occasion I visited Haworth and the house of the Brontë family. That was my first encounter with them, and since that moment they've never left my heart. If I really have to make a choice, I would choose Emily and her Wuthering Heights. There's something so poetic and visceral in that novel that makes it either intensely loved or intensely hated: it certainly leaves a deep impression.
We have read Giorgia Sonnino's works "Tre Anime Luminose fra le nebbie nordiche. Le sorelle Brontë" and "Il pensiero religioso di una poetessa inglese del secolo XIX. Emilia Giovanna Brontë" with great interest; how did you come to know about the existence of these old texts and why have you decided to republish them?
I'm always in search of old and rare texts, I do it for curiosity but also for passion and work; Windy Moors in fact, is not the only series of books in which we introduce to the readers texts coming from the past. I was considering the idea of dedicating part of the catalogur to the Victorian period when I came across Giorgia Sonnino's works: it was a perfect synchrony between me, the antique dealer who owned the last copy of the book possibly available on the market, and the readers who love the Bronte sisters and love reading new works about them. I could have kept the book for me, but I decided to spread the knowledge and give everyone the pleasure of appreciating the treasure I had found. Spreading culture and knowledge is one of the most important principles of my literary activity.