Our guests today are Mick Manning & Brita Granström, authors and illustrators of the "The Brontës-  Children Of The Moors" . It is a wonderful book on the lives of the Brontë sisters and their family, and we had the chance to read it and review it for Hachette UK – in case you missed our review, it can be found in this blog under the category "In The Reading Room", right here. Enjoy Mick and Brita's delightful interview!
When did you first encounter the Brontë sisters and why have you decided to illustrate the story of their lives?
MM: I grew up in Haworth and went to school there. A pride and fascination in those stubborn, Brontë women seems to be omnipresent in Haworth; like the wind whistling through the black moorland walls or the sound of curlews and sheep in the heather…

Your story opens with a young boy chosen to play the part of a shepherd frightened by
ghosts for a BBC TV series of Wuthering Heights; is this autobiographical?
MM: Yes! In 1967 the BBC were making series of Wuthering Heights starring Ian McShane as Heathcliff and they needed a local boy to play in the final scene in which a shepherd boy is scared out of his wits because he has seen the ghosts of Cathy and Heathcliff… I had to wait so long for my turn on camera that I did nod off… and a woman did come to talk to me when I was drowsy… I think it was the actress Ann Stallybrass… but what's to say it wasn't Charlotte Brontë herself come to visit me and tell me her life story?
All the pictures were drawn on location in Haworth; what was the thing or the place that you enjoyed drawing the most?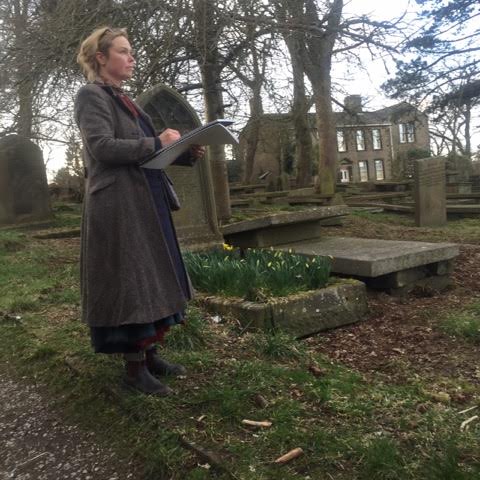 BG: I found it all fascinating. I'm from Sweden and it felt very Swedish in some ways – like an Ingmar Bergman film. During the visit I wore my home-made long wool dresses and underskirts as I wanted to walk the moor and feel how the wet skirt dragged in the heather… There are illustrations in our book of Charlotte roaming the moor, love-lorn for her Brussels schoolmaster and then later, back home, taking off her wet clothes andstockings w atched only by Emily's bemused dog Keeper; I want readers to reflect on the cold and damp conditions they lived under – even indoors. My favourite day was an early morning walk to Brontë Waterfall – there was no one else in sight the whole way.
In the last part of the book the most famous novels written by the Brontë sisters – Jane Eyre, Wuthering Heights and The Tenant of Wildfell Hall– are wonderfully told and illustrated; what's your favourite Brontë novel?
MM:  Wuthering Heights for it's brutal honesty and dark passions… Jane Austen or Dickens could never have written that!
BG: I would go for Jane Eyre it is an unforgettable tale of stubborn woman with so many twists and turns and changes of mood, just beautiful…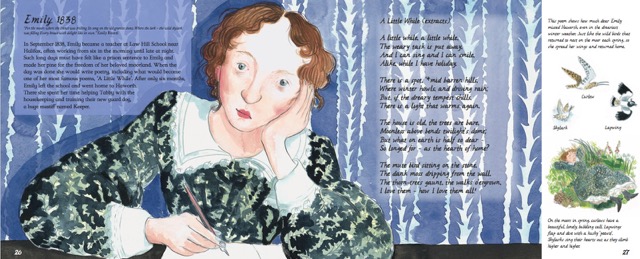 MM&BG: And let's not forget the breath-taking and often heart-breaking poems written by them all of which a verse from our favourite Loud Without the Wind was Roaring is
placed as a dedication to my own mother and father:
Well–well; the sad minutes are moving,
Though loaded with trouble and pain;
And some time the loved and the loving
Shall meet on the mountains again!