When in Haworth, we always rely on the help of professional guides for our research in the village and on the moors. Last month you got the chance to know Johnnie Briggs, Blue Badge Tour Guide of Yorkshire, and today we want you to meet his friend and colleague Leri Morgan-Wynne. Leri and Johnnie collaborate for Brontë Walks , and they've been guiding us on the moors since our very first day in Haworth. They're not just professionals, they're amazing people who always make us feel at home! Visiting the arduous places that inspired Emily and her sisters would have been almost impossible without them. Do you remember the first chapter of Wuthering Heights, and how difficult it was for Lockwood to get used to the nature and the weather of the countryside? Reading Emily's novel gives you an idea of how fascinating and at the same time hostile the moors can be, especially if you don't know its rules.
So, if you want to know what's the best way to prepare for a safe walk on the moors, don't miss this very interesting interview to our lovely Leri:
Dear Leri, what's your job?

My Mon-Fri job is teaching. I teach 5-6 year olds in a primary school in Bingley which is on the outskirts of Bradford. At the weekends and during the holidays I guide groups and individuals up onto the moors around Haworth.
Why did you choose to become a guide?
I love walking and I think the landscape of the moors around Haworth is spectacular. It is a privilege to be able to show visitors the beauty of the countryside which, on their own, they might not otherwise experience.
When did you first encounter the Brontës and who's your favourite member of the family? Why?
I read Wuthering Heights and Jane Eyre as a girl but only really gained a deeper understanding of the characters and stories once I had visited Haworth and the surrounding countryside in my early 40s! I think my favourite character is Charlotte. I feel I know more about her than the rest of the family and I love Jane Eyre.
Are there any Brontë stories you particularly love to share with tourists, and what's your favourite Brontë place to show them? Why?
I prefer to listen to our visitors tell me about their favourite stories and why they like them. I love walking to the Alcomden Stones via Ponden Kirk. Ponden Kirk is such a romantic and place and, although Heathcliff and Cathy were fictional characters, I can just imagine them meeting there on a wild and windy day. Reaching the Alcomden Stones feels like stepping way back in time. I am always amazed to think that the Brontes explored these places without the aid of walking boots and Goretex!
How should tourists prepare themselves for a walk on the moors?
With excitement, anticipation and respect. You will be walking at 440 meters above sea level and it can be cold. Clothing is important, you need to feel comfortable and layers are always a good idea. The weather can change quickly and a good rain and windproof coat is essential. But it is footwear that is the key. The paths are a mixture of good broad paths, rocky narrow paths, squelchy and boggy parts, sheep paths and some streams to cross. I know that it is difficult when those travelling by air have such restrictions on luggage, but if you can please bring good walking shoes, or boots. Ideally they need to support your ankle, have good grip and are comfortable. If this isn't possible we can always lend you a pair of good old wellington boots.
It is always good to bring plenty of water and a favourite snack to keep you going. We always bring extra water, nuts and raisins as well as some chocolate.
Perhaps most of all, just bring laughter in your heart. Our walks are not for endurance they are for enjoyment and go at a gentle pace with lots of stops for photographs, stories and sometimes poems.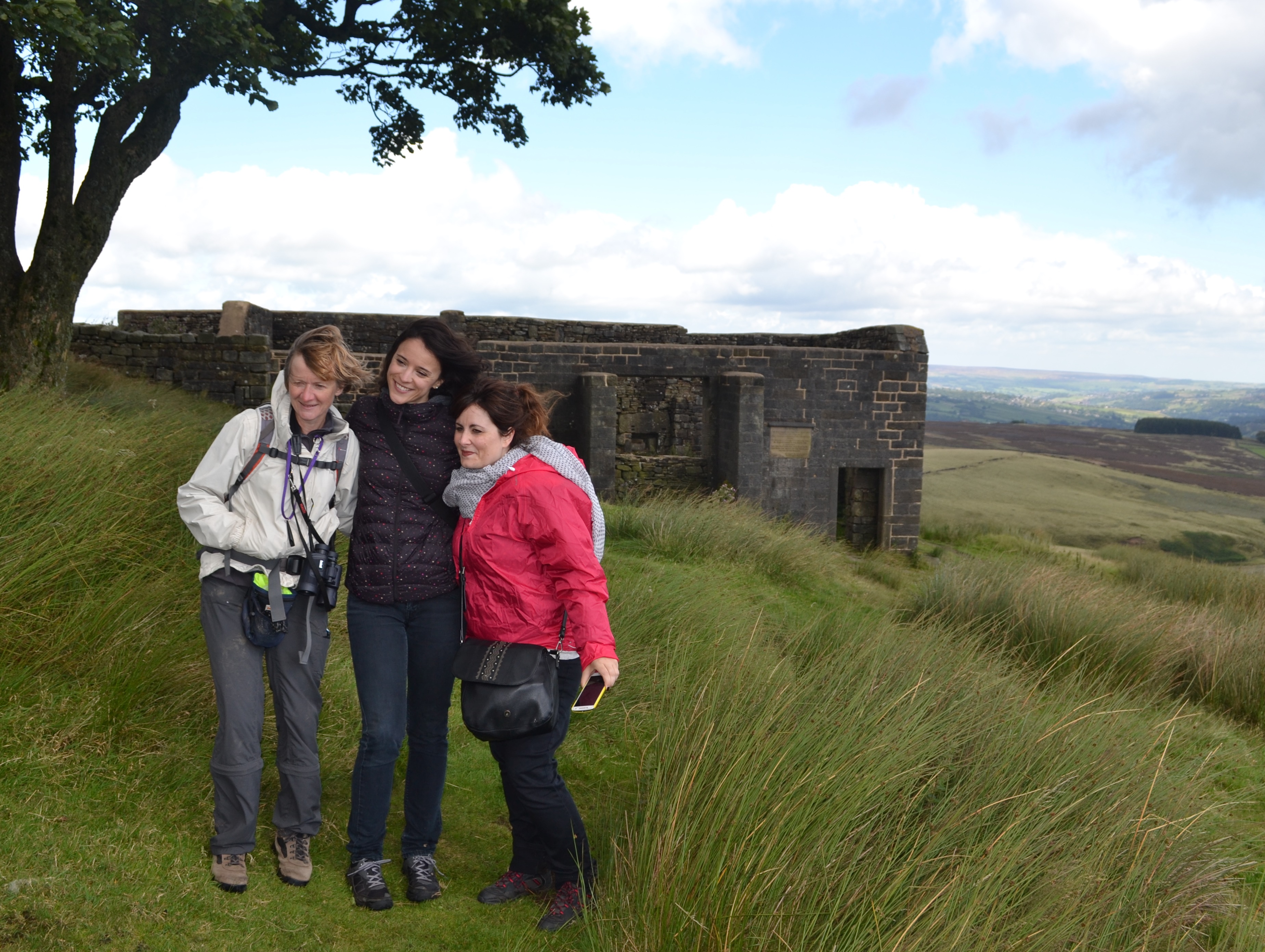 Have you ever been alone on the moors? How does it feel?
Yes, I am a runner and enjoy running on the edge of the moors. The paths around Haworth are well used and they feel safe. But, once above Top Withens, or wandering off the paths, the moors can feel a little isolated and lonely. It really depends on your confidence and I would always say that you need to tell someone that you are going onto the moor, which direction and when you are likely to be back. It is always better to be safe. You can tell the people where you are staying, a friend, or if you prefer you can always let us know, Brontë Walks, just remember to let us know when you are back. There is good phone coverage on the moors, so make sure that your phone is charged. You can also buy a map at the Visitor Information Centre, either the 50p outline or a full Ordnance Survey Map, number OL 21, South Pennines.
Have you read our interview to Blue Badge Tour Guide for Yorkshire Johnnie Briggs? If you want to learn more don't miss it: Our Guest: Johnnie Briggs, Blue Badge Tour Guide.