Thanks to the kind collaboration with Ripostes (an Italian publisher) we had the chance to read Le sorelle Brontë in immagini e parole (The Brontë sisters in images and words), curated by Alessandro Tesauro. It's a small text, you can read it in an hour or so- maybe during a quiet autumn evening.
The book is composed by three sections- in the first one we can read an essay by Maria Luia Rizzati (from Le immortali, vol. 2, Mondadori, Milan 1969). It's a very involving essay, a bit romanticized maybe, which is divided into biographic episodes, some letters, and various chronological excursus about the life of the whole family.
In the second part we can find a short chronology (life and works of the sisters).
Finally in the third part, actually named Le sorelle Brontë in immagini e parole, we can find some poems by the three writers (most of them are translated by E. Passannanti), some images from the book The Landscape of the Brontës (Grange Books, London 1988), and some fragments from the works of the sisters.
On the cover, where we can read no words, and which is totally green, we can see the Pillar Portrait, by Branwell- the only exsisting portrait of all the three sisters together.
A few pages, and a pleasant reading- Le sorelle Brontë in immagini e parole gave us a totally relaxed Brontë night!
Serena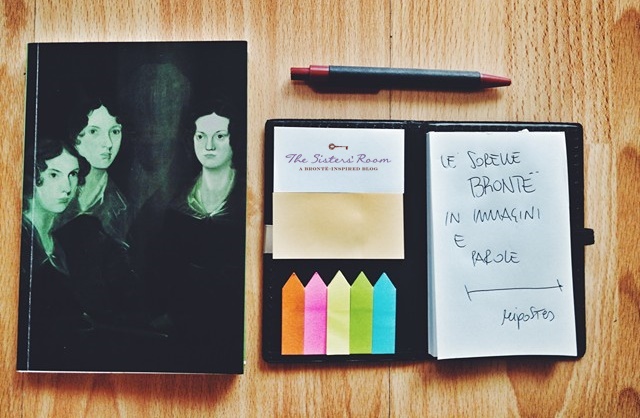 Are you looking for some more Brontë readings? Try also In the Reading Room: Tre Anime Luminose Tra Le Nebbie Nordiche, an Italian Biography of the Brontë Family by Giorgina Sonnino