Today we want to tell you about a very interesting book, published by the Italian publishing house Ripostes in 2016: I componimenti di Bruxelles. It is a beautiful collection of the devoirs written by Charlotte and Emily during their stay at the Pensionnat Heger, translated into Italian by professor Maddalena De Leo. These essays were written between 1842 and 1843, and they were regularly assigned by professor Constantin Heger, French teacher. Not only were these devoires meant to practice French, but also to learn about different kinds of writing- the Heger method, as a matter of fact, consisted of three steps: first, a dictation from the works of famous French authors either contemporary or from the 1600s-1700s, then the analysis of their ways of writing, and eventually the composition of a personal essay which had to maintain the style of the original piece.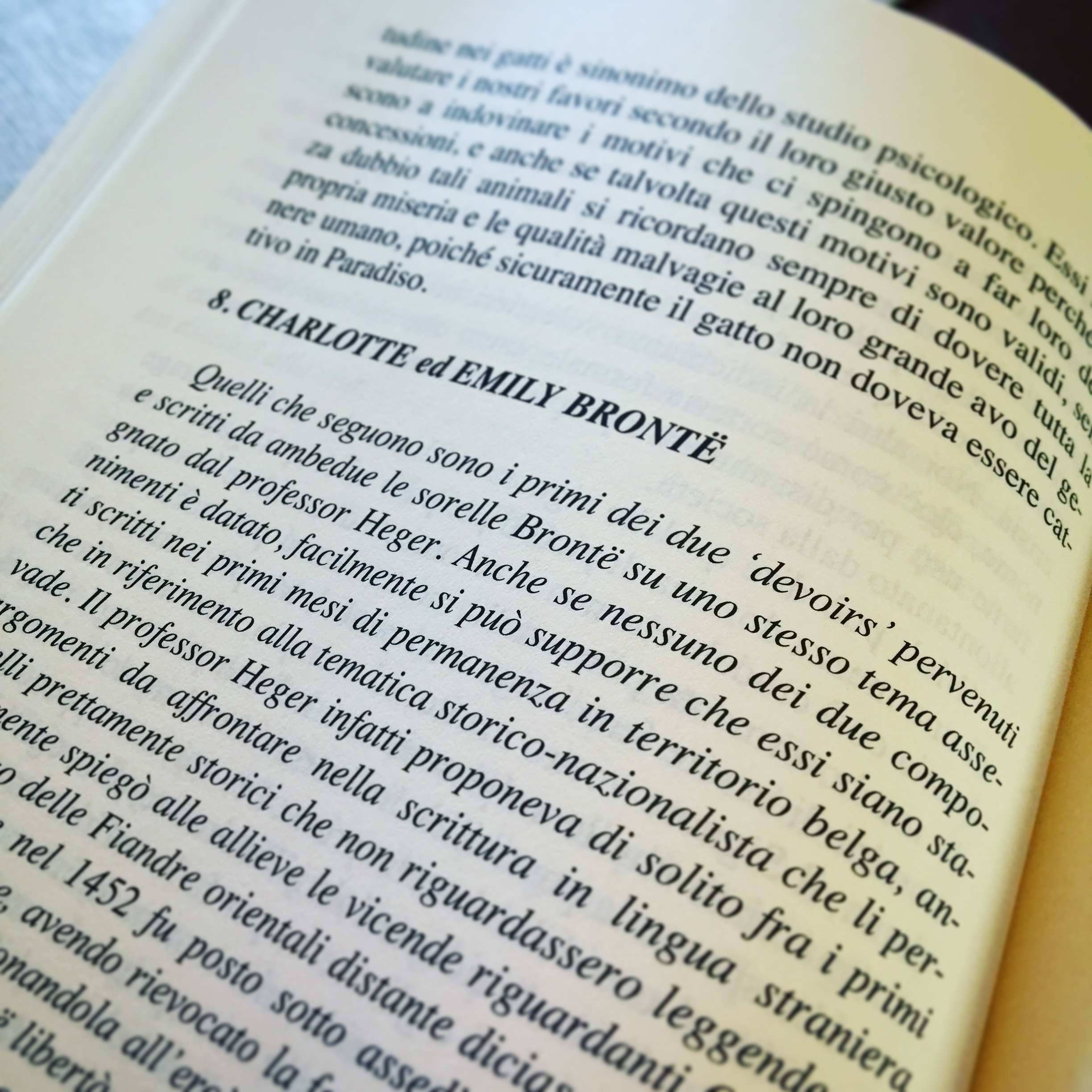 Professor de Leo has chosen for this collection 29 devoirs, all preceded by an explanatory introduction, and some of them have been published in both Charlotte and Emily's version– this is one of the most interesting aspects of I componimenti di Bruxelles, because these essays give us the chance to see clearly the sharp difference in style and thought between the two sisters. In her introduction, Maddalena De Leo also tells us about the different relationships they had with their professor: Emily's intense expressivity was difficult to manage, and she often argued with her mentor; on the contrary, Charlotte was more disciplined at the beginning and followed the advice of Monsieur Heger, developing little by little her own style while becoming more resolved and self-confident. Heger is especially remembered for the influence he had on Charlotte, but his role in the sisters' lives goes beyond the admiration, since he showed them for the first time how to use their talent as writers.
We strongly recommend I componimenti di Bruxelles to all Italian Brontë enthusiasts. It's extremely interesting being able to see how Charlotte's writing style evolves, and there's something magical about reading Emily's prose again, being able to listen to her voice one more time, the amazing voice we thought we had lost with Wuthering Heights (her only novel).
It was in November that the Brontë sisters left Brussels to attend Aunt Branwell's funeral, and while they're away from the Parsonage, we suggest you have a look at their school papers and enjoy this beautiful reading.
Selene
Did you like our suggestion? Are you looking for Brontë readings to warm up the cold season? Here are some more: In the Reading Room- Le sorelle Brontë in immagini e parole: a review, In the Reading Room: Patrick Branwell Brontë- A Review, In The Reading Room: Natura e Religione, by Simona Scarfogliero – A Review, In The Reading Room: Charlotte Brontë, A Passionate Life (Una Vita Appassionata) – A Review.