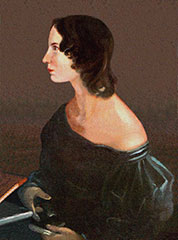 This year we celebrate the 200th anniversary of Emily Brontë's birth. Second youngest child of six, Emily lived most of her short life (1818-1848) in the remote Haworth village in Yorkshire, except for nine months spent as a student in a Pensionnat in Bruxelles with Charlotte. 
For biographers defining her many-sided and impenetrable character has always been very difficult. Except for few letters which are quite impersonal, some essays written in French, almost two thousand poems, and Wuthering Heighs– her only novel that is now worldwide considered a masterpiece of literature- we don't have any other records of her life, in fact they were most likely destroyed after her death by her sister. 
Her prose has been attracting the interest of literary critics in all parts of the world, but in the past ten
years a peculiar and increasing interest towards her poems has been witnessed and very accurate translations of her works were published also in Italian.
In her poems we can see an alternation of topics which could be ascribed to three major themes: 1- desire for freedom, 2- love for nature and for her beloved moors, 3- the conflict between death and eternity.
As a free spirit, Emily couldn't stand constrictions and longed for freeing herself from what she considered a mortal chain. Only imagination allows her to gain that spiritual freedom which she very early expressed through her imaginary world of Gondal. With Gondal, by means of soliloquies set in various circumstances, the author makes use of a kind of introspection that will little by little become universal, with a very sober, direct and systematic style. The moors are her primary source of inspiration, and this almost physical bond between nature and the human being slowly takes shape into a sort of pantheism while poetry becomes its means and voice. 
Very recurring in her poems is the subject of death: it is not considered as a conclusion but as a beginning, the only way to put an end to human sufferings and finally breaking out of earthly prison.
Solitary and impenetrable, Emily Brontë should nowadays be considered as a great poetess. Her poems have been and will always be the cry of a soul looking for peace.
Maddalena De Leo