The tradition of books with moving images begun in the Middle Ages and still survives today, with the mesmerising beauty of pop-up books. Those early precious volumes, equipped with mechanical parts and moving devices, were scientific or esoteric publications where small contraptions allowed images, planets and various objects to move on the delicate pages of old books. Throughout the years, animated books turned into didactic and recreational publications, becoming the predecessors of modern pop-up books where a third dimension magically appeared – turning the pages, imaginary worlds previously unknown started to take shape through elaborate paper structures. In the Nineteenth century, books with moving images became more and more important and could be found especially in the toy boxes of aristocrats, alongside with optical devices like portable dioramas or perspective theatres. They were small, sophisticated objects made of paper and wood that allowed to watch animated scenes in illusory spaces, and they almost anticipated the narration through images of modern medias. These paper devices have on us- by now used to screens and flickering images- a special appeal.
Su Blackwell (Sheffield, 1975), is an artist who graduated in 2003 at the Royal College of Art in London. She works exclusively with book pages creating wonderful fairy-tale worlds. Inspired by literary places, she builds three-dimensional microcosms covered with printed words and puts them into little treasure chests protected by a glass case, using a material as delicate and fragile as book pages. She searches for books dedicated to female heroines in second-hand shops all over England and then, after reading them, she transforms the pages into enchanting scenes through a meticulous and impeccable technique. Her work seems to put the Victorian perspective theatre and the pop-up books together, giving life to a fascinating piece of art that she eventually completes with a refined lighting- soft glows come through the thin paper showing secret corners or rooms dimly lit.
With her precious and fragile book sculptures, Su Blackwell took part in the Contemporary Arts Programme at the Brontë Parsonage Museum in 2010 with the exhibition "Remnants". The title referred both to the "remnants" of books transformed into graceful paper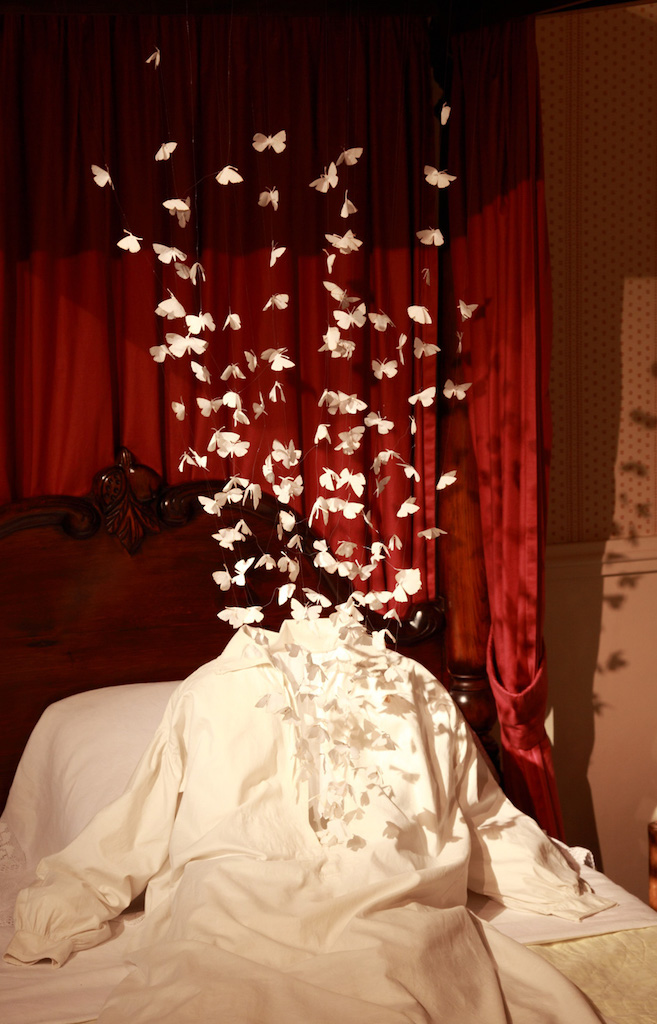 sculptures, and the traces left by the Brontës in the very place where they lived. Su Blackwell's artworks -with butterflies flying around Mr Brontë's nightgown or toy soldiers fighting in the children's room – depict the imaginary worlds the young siblings used to dream about, together with scenes from their everyday life. Moreover, the choice of paper as a material for her artworks reminds us of the importance of paper for Charlotte, Branwell, Emily and Anne- its value was so immeasurable that it was their habit reusing paper and writing on miniature books. In the Museum collection there is also a wonderful reproduction of Wuthering Heights, house of the Earnshaws (2011). The house on the moors was built with the pages of an old edition, it has lit up windows and a courtyard. Above it, a round moon displays some words from the last page of the novel, when Mr Lockwood is leaving Wuthering Heights: «As they stepped on to the door-stones, and halted to take a last look at the moon – or, more correctly, at each other by her light – I felt irresistibly impelled to escape them again…».
In 2017 Su Blackwell wanted to pay tribute to Haworth and its history again with a paper sculpture made from the pages of an old, read leather covered edition of Jane Eyre. The austere shape of the Brontë Parsonage with its majestic Georgian features, comes out  of this opened book. The door and the windows are lit by a dim yellow light that resembles the light of a candle. There are two bare trees next to the house, and in the foreground you can see the graves from the graveyard behind Haworth Parish Church.
Elena Lago, Art Historian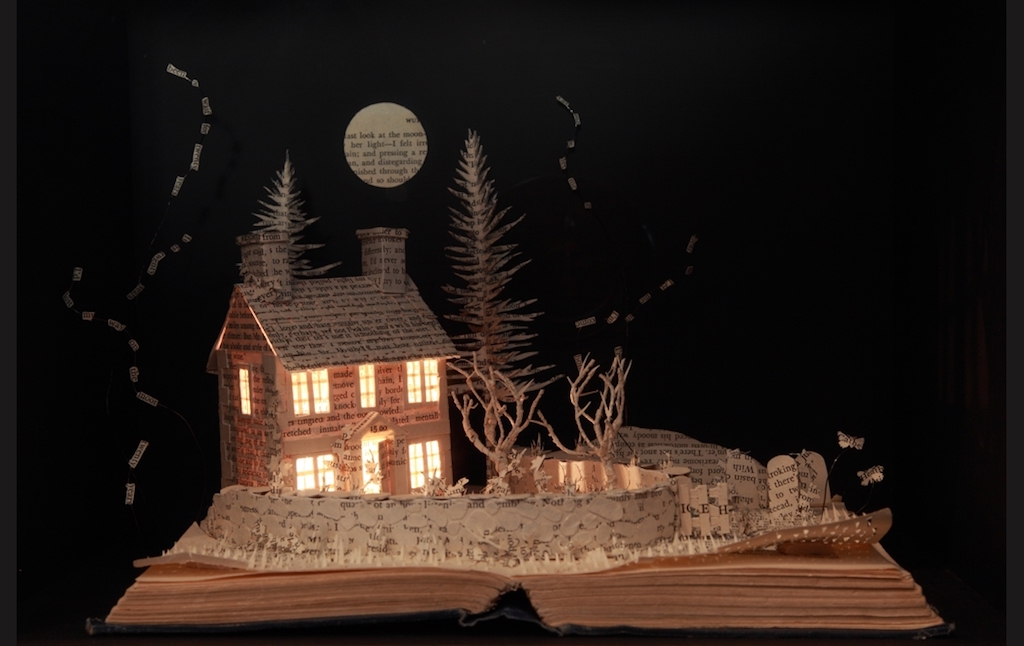 Pictures from: https://www.sublackwell.co.uk/.
Cover image:  Su Blackwell, Wuthering Heights, 2011, Collection of the Brontë Parsonage Museum
Have you red Elena's article about the misterious Brontë's signatures written on the moors? Lynn Setterington: Sew near – Sew far, An Article by Elena Lago