In 2016 during one of our journeys to Haworth we headed north, reached lovely York and then went to Scarborough, in the footsteps of Anne Brontë. As a matter of fact, after spending some days in the village were the Brontë sisters lived, we left the wuthering heights behind us, took a train and headed towards the northern coast of England.
Needless to say that the landscape over there is completely different. While exploring Scarborough we wondered several times how Anne must have felt when she saw the sea for the first time.
There are many places in Scarborough that are related to Anne- the author of The Tenant of Wildfell Hall was very fond of this city, and she used to visit it very often with the Robinsons. Also, it's here she rests: she's buried in the graveyard of St. Mary's church.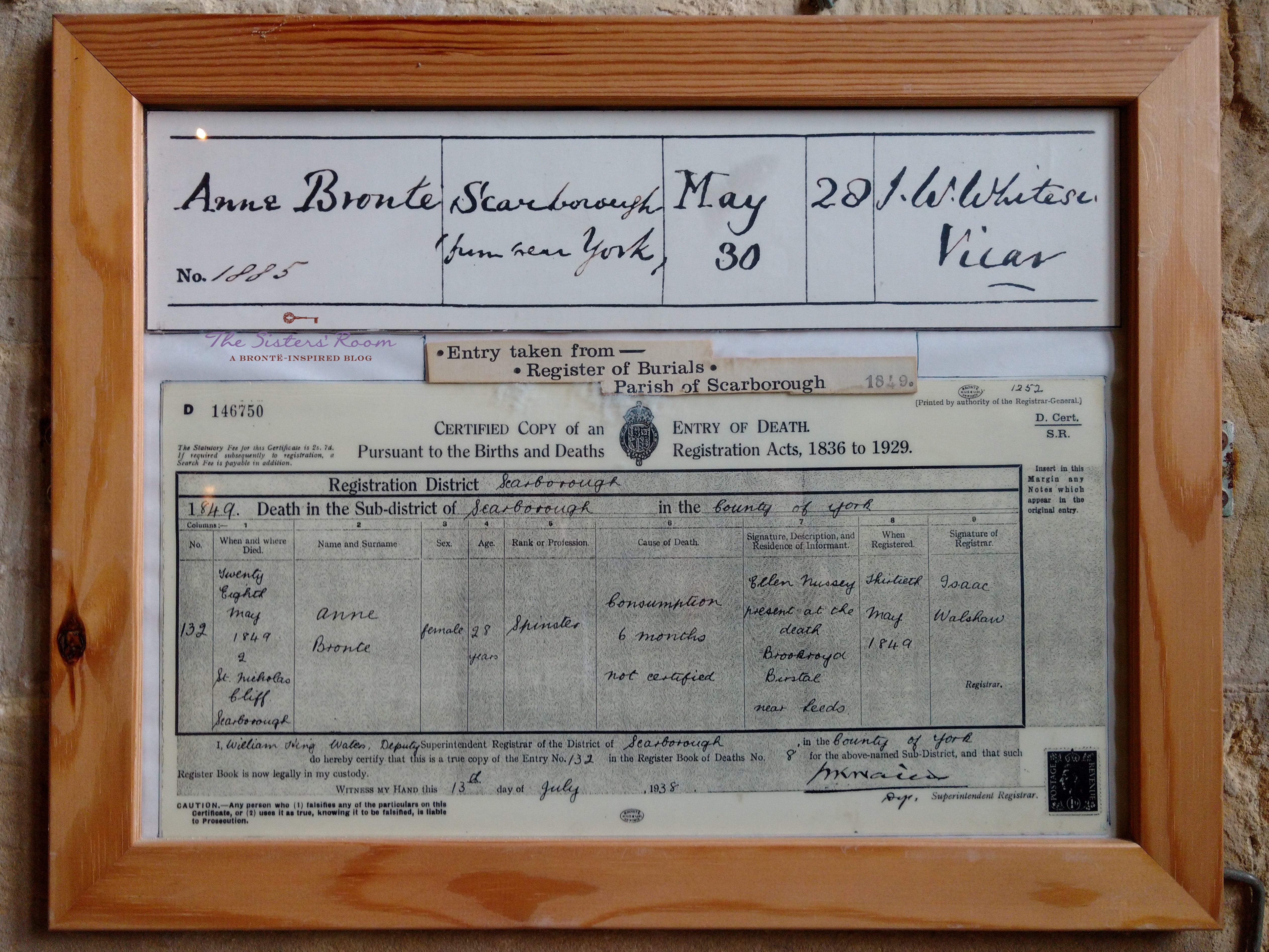 When we visited that church we found out some interesting piece of information about sveral mistakes on Anne's gravestone and death certificate.
Charlotte payed her only visit to the grave in 1852 and she spotted no less than five errors on it. For example according to the gravestone Anne was twenty eight when she died, but she was actually twenty nine.
Another error you can read on Anne's death certificate is that she was "from near York". This probably happened because the Vicar who conducted the burial service assumed that she was from the same place where the Robinsons used to live. He actually knew the Robibsons, who were from Thorp Green, Littel Ousburn, "near York". Whenever they went to Scarborough they would bring Anne with them, as she was their governess. Charlotte had most of the mistakes on her sister's gravestone corrected- they were all fixed, except Anne's age. However, since 2013 alongside the original gravestone there is another one installed by the Brontë Society: every piece of information on that one is correct.
Want to find out more about our journey to Scarborough? Don't miss In the footsteps of Anne Brontë- Visiting Scarborough.