Since she was a child, Anne Brontë had been particularly interested in music. Emily and Anne started taking piano lessons with Abraham Sunderland in 1832 and, while working for the Robinsons, she had the opportunity to go to many concerts with the whole family during their summer holidays in Scarborough. In 1848 she also went to London with Charlotte and watched The Barber of Seville by Rossini.
In June 1843 Anne spent three shillings and six pence on a music copybook. She wrote on its first page her name, the date, and "Thorp Green". Musical scores were quite expensive at the time, so her intention was to transcribe the music she wanted to teach her pupils. On that notebook Anne copied thirty-four pieces of music – twenty-eight plus five. After she resigned his post as a governess for the Robinsons, she stopped using it.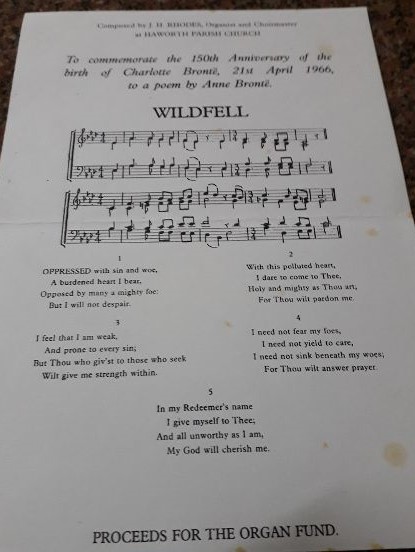 Five poems by Anne Brontë became religious chants. They were short, clear, easy to remember, easy to put in music, and particularly suitable for being performed in a church. It was Jack Hartley Rhodes (1909-1994), organist and choirmaster at St. Michael and All Angels in Haworth, who chose the poems and turned them into songs.
In the 80s-90s some white cards with Rhodes' music and Anne's poems printed on them were sold in St Michael's church as souvenirs for the tourists. Today, those hymns are still sung in many English churches but very few people know that those fervent prayers to Divine Mercy come from the pen of a Brontë.
Maddalena De Leo
The music copybook was reportedly bought by Anne in York. Do you already know about the Brontë connections in that spellbounding city? In the footsteps of Anne Brontë- Visiting York