Besides the Brontë sisters we also do love tv series so much. If you too share these passions, we bet that also you pay attention to possible Brontë quotes in tv shows while watching them. You'll never believe how many references to the Brontës we've found in tv series, sometimes we couldn't believe it ourselves. They are often mentioned also in many tv series which are not eve literary ones. From Downton Abbey to Sex Education, from New Girl to Sons of Anarchy: here are some examples.
Downton Abbey
Since it is settled in Yorkshire and deals with a rich English family of the beginning of 1900, you can easily imagine that Downton Abbey is the easiest place where to look for them. In this elegant British-American historical period drama television series cco-produced by Carnival Films and Masterpiece for ITV and PBS, there are lots of references to the Brontës. Here we'll just tell you about our favourite one: in the lovely Christmas special of the second season, the Crawleys are playing games around the fireplace. Lady Mary has to mime a novel- it's The Tenant of Wildfell Hall by Anne Brontë.
Gilmore Girls
In many episodes of Gilmore Girls, the American tv series created by Amy Sherman- Palladino, you'll find lots of references to Charlotte Brontë. In fact, it looks like Charlotte's got a special spot in Rory Gilmore's heart. In an episode of the fifth season, we can see Rory, maybe the most loved reader of tv series, in her room in Yale. She's at the phone, and on the wall behind her there's a poster with Charlotte's portrait.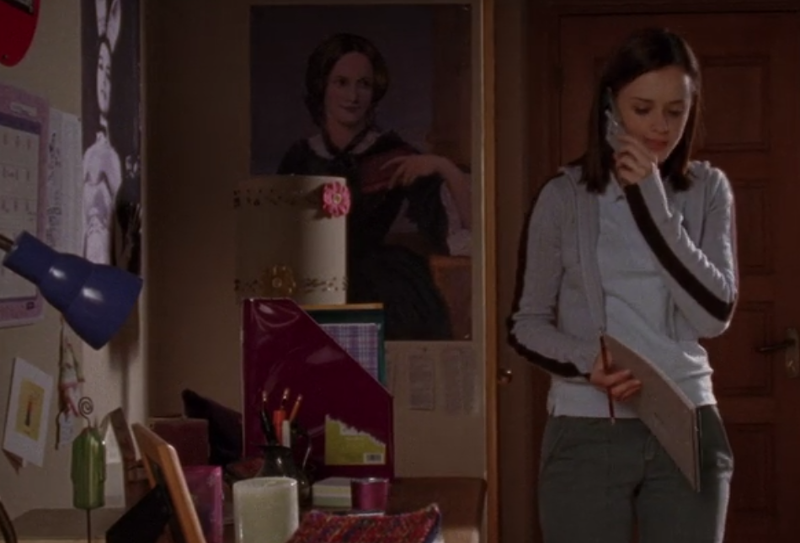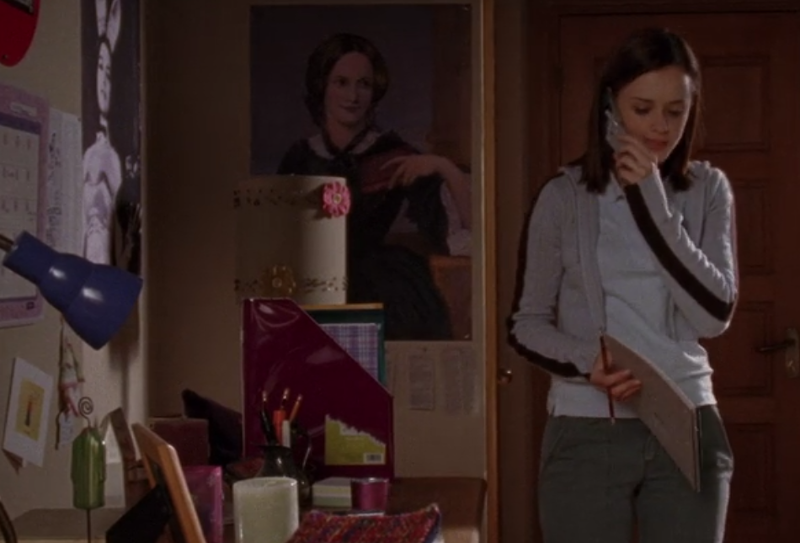 Friends
We find Brontë novels again in F.R.I.E.N.D.S., the American television sitcom, created by David Crane and Marta Kauffman. In an episode of the fifth season two of the main protagonists, Rachel and Phoebe, go to an English Literature class during which they read Wuthering Heights and Jane Eyre. Rachel seems not to take it seriously though, and she goes to the class without reading the novels, but using Phoebe's ideas to make a good impression with the teacher. So Phoebe, tired of this, tells her Jane Eyre is not a woman but a Cyborg.
New Girl
In a funny episode of New Girl, the American tv series created by Elizabeth Meriwether, Nick and Schmidt meet at the pub and start arguing about alcohol and about being a nice person. A drunk man next to them calls Schmidt "Heatchliff".
Sons of Anarchy
We even found different unexpected references to the Brontës in Sons of Anarchy, the American tv series created by Kurt Sutter about the illegal traffics of a motorcycle club. The title of the tenth episode of the last season is "Faith And Despondency", a poem by Emily Brontë. In this episode Juice, one of the SAMCRO members, is in jail. He receives a package from another detained, containing different things and a book called Love Poems by Emily Brontë (which we don't think does exist by the way). But don't buy it, this is far from being a romantic message. If you're curious to know what else was inside the package well… you'll have to watch the series!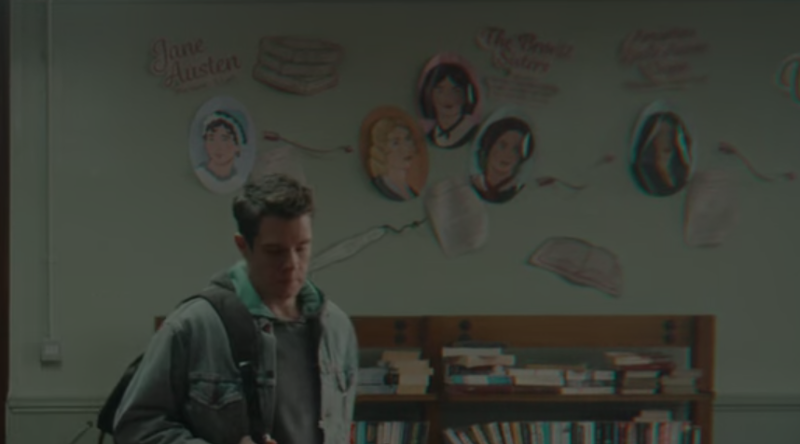 Sex Education
Sex Education it's amongst the most popular tv series on Netflix. In the second episode of the third season of the show created by Laurie Nunn casting Asa Butterfield, Gillian Anderson and Emma Mackey there is a scene in which we can see Adam, one of the main characters of the show, entering his classroom at school. On the wall there are some portraits of "Women in Literature": there they are, the Brontë sisters, right there. Have you spotted them elsewhere in tv shows?
Serena
Would you like to read more about a tv show somehow related to Emily Brontë? Don't miss  Gentleman Jack and the  Brontës – Part 1: Who Is Anne Lister?